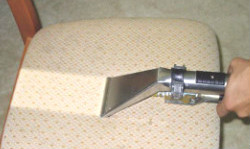 We are a company, specialized in upholstery cleaning in Whetstone and have been providing our services for many years. To remove every dirt and filth from your soiled upholsteries we use a special hand tool, which can reach every area of your sofas, armchairs and car seats. We have created a very effective system for stain removal and protection. Our cleaners are very successful in fast and sure removing of different kinds of stains. To be easily taken away, we recommend you to let us deal with your stains as fast as possible, right after they appear on your upholsteries.

"When friends ask me how I am capable of maintaining everything in good shape, even the white sofa I tell them it is a secret- you are my secret." – Miranda
CleanersWhetstone can apply special dis-solvents which protect from stains that may spoil your upholsteries. There isn't a stain we can cope with. We have positive results with coffee, wine, ink, paint, tea and many other stains. If you need help, we can advice you how to look after your upholsteries next time they get smirched with some difficult to remove stain.
Upholstery Cleaners Whetstone
Our professional upholstery cleaning prevents your furnishings from premature obsolescence. If you do your cleaning procedures regularly and when needed you will definitely extend the life of your upholsteries and make them look like new. You don't have to spend too much money on upholstery cleaning. We will guarantee you the finest cleaning results in London in a combination with the most affordable prices. Our company offers many years experienced cleaning staff, kind and friendly attitude of all of our employees and excellently cleaned upholsteries every time. To take advantage of this offer call our contact numbers, fill in the online form in our website or write us an e-mail.
Our Services:
Domestic Cleaning Whetstone
Deep Cleaning Whetstone
Gardening Services Whetstone
End Of Tenancy Cleaning Whetstone
Carpet Cleaning Whetstone
Oven Cleaning Whetstone
Office Cleaning Whetstone
After Builders Cleaning Whetstone
We will start working on your upholsteries soon after we receive your requests and send the right cleaners to your address. Don't let your sofas or armchairs stay filthy too long and leave them to our skilled upholstery cleaners in Whetstone. They will look after them the best possible way and you will have them in their best condition. The longer you wait, the more difficult it will be for the stains and grime to be taken away from your furnishings. Give your upholstery the cleaning it deserves, provided by our company, which is one of the leaders in London for upholstery cleaning.